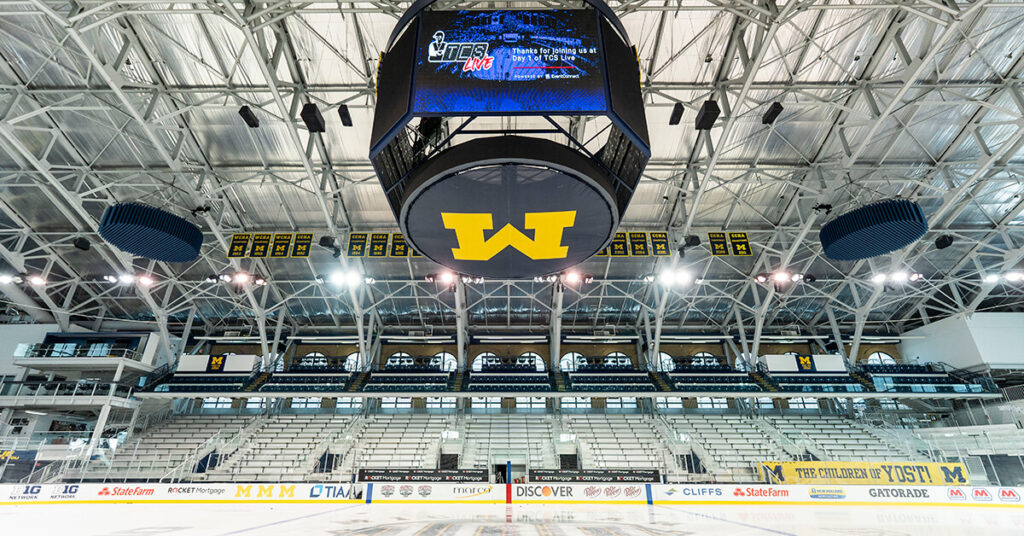 In late January, Michigan Public High School Hockey held a showcase weekend filled with games to promote the outstanding talent and work ethic of its high school student-athletes and teams.
The Northville Mustangs played in the tournament and between games their Head Coach Ryan Ossenmacher ran into another team's coach in the hallway. He was flustered having forgotten his whiteboard behind the bench after the 1st period, so he asked Ossenmacher to borrow his and of course he obliged.
A few minutes later the board was returned to Ossenmacher, but not before it was frantically erased.
"I laughed and asked him what he was doing," said Ossenmacher. "I told him I wanted to see what he was talking about with his team. He said I knew exactly what he was talking about because I had seen it before – he was giving Matt McIlvane's presentation from The Coaches Site. I thought that was hilarious."
The TCS Live presentation in question, Building a Culture for Big Moments, by EC Red Bull Salzburg Head Coach Matt McIlvane, is fantastic and a must watch for coaches who are looking to maximize their player's performance.
It's not at all surprising that both coaches have seen the presentation, however. Many Michigan High School coaches saw it live, in-person, as attendees of TCS Live in 2022.
It's no wonder Michigan is considered one of the best hockey states in the US.
In addition to coaching, Ossenmacher is also President of the Michigan High School Hockey Coaches Association. He understands the value of coaching education and is a big fan of coaching conferences, especially ones in his backyard.
TCS Live 2023 will once again take place in Ann Arbor at the University of Michigan. The three-day coaching conference, running from June 22-24, is a masterclass in coaching and one that Ossenmacher encourages his coaches to attend.
"As President of the Coach's Association, one of the biggest things we really strive to do is provide educational opportunities for our coaches," said Ossenmacher. "We all know the best coaches are continuing to learn. They understand the locker room is a classroom and if they're not evolving as coaches, their team and their players are going to suffer. So attending The Coaches Site's conference, a world-class event, is a must for us."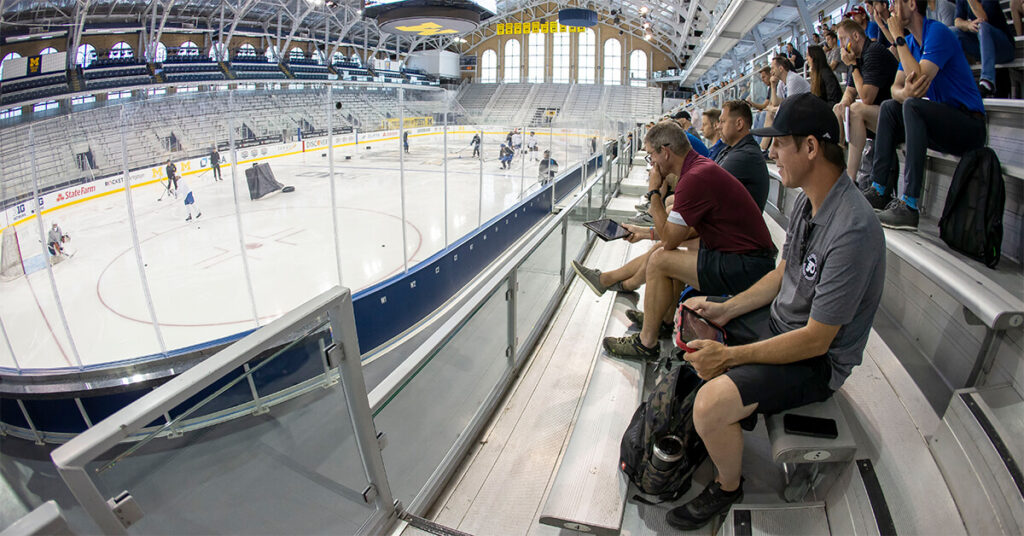 TCS Live 2022 was the return of our in-person conference after events were held virtually for a few years prior. Continuing with in-person conferences is our goal because we understand the benefit of shaking hands with someone, swapping stories, and trading phone numbers to grow your hockey network.
These relationships aren't formed during time-alloted Zoom calls where outside distractions are the norm.
"The power of being in-person just magnifies and strengthens the event," said Ossenmacher, who shared feedback he heard from last year's conference.
"Two things stuck out to me most from last season. Our coaches appreciated the on-ice portion and I think that was unique to many of them. The opportunity to watch the coaches and players and how they interact and the things they're looking for, that's some next level stuff for a lot of our coaches.
"And they loved that so much of what you learn at the conference you're able to apply right away when you walk out of there. Just by being there, you're a better coach when you leave, because you have so many more tools available to you. It's not something that you've got to go back and digest and figure out ways to apply it, it's applicable right away."
Ossenmacher and the Michigan High School coaches will be in attendance at TCS Live 2023. For anyone joining them, be ready to shake a lot of hands, swap a lot of stories and get a lot of phone numbers as you grow your hockey network.
Visit TheCoachesSiteLive.com to view the presenting line-up and save your seat at hockey's premier coaching conference.