As a coach, Kori Cheverie is unique. Her experience leading both men's and women's teams at various levels and age groups has provided her with a well-rounded coaching resume. But it's her background and wide array of hockey exposure that separates her from other coaches her age.
Prior to coaching, the 35-year-old served as the Ryerson Rams' Skate Training Specialist and even played for the Italian Women's National Ball Hockey Team. Experiences like these have allowed her to be a part of almost every aspect of the game one can imagine.
Although still very early in her career, Cheverie has already made coaching history and is primed to continue her breakthrough.
Hailing from Nova Scotia, Cheverie grew up believing that anything could be achieved in sports, no matter what obstacles lay in front of her. She quickly became a hockey star, earning her the opportunity to join the women's team at Saint Mary's University. In addition to being renowned for her talents on the ice, Cheverie was characterised as a leader and an excellent student, serving as team captain and being honoured as a member of the Academic All-Canadian Team during her time in school.
After graduating, Cheverie went on to play professional hockey for the Toronto Furies of the CWHL. Despite the rise in competition, Cheverie was still able to excel. Retiring with franchise records in points, games played, and power-play goals, Cheverie cemented herself as one of the more decorated players the league has ever seen. Arguably her most impressive accomplishment was playing in 152 consecutive games (a CWHL record), an incredible display of her commitment to the team and her love for hockey.
Following her illustrious playing career, Cheverie turned her attention to coaching. In 2016, she grabbed the attention of the hockey world by becoming the first woman to serve as a full-time Assistant Coach for a U Sports men's team after being hired by the Ryerson Rams.
Cheverie was part of a historic turnaround that saw Ryerson teams shine compared to their counterparts from the early 2010s that frequently struggled to compete. While helping the team win multiple division titles, Cheverie was promoted to Lead Assistant Coach, representing her importance to the team's success and her leadership qualities.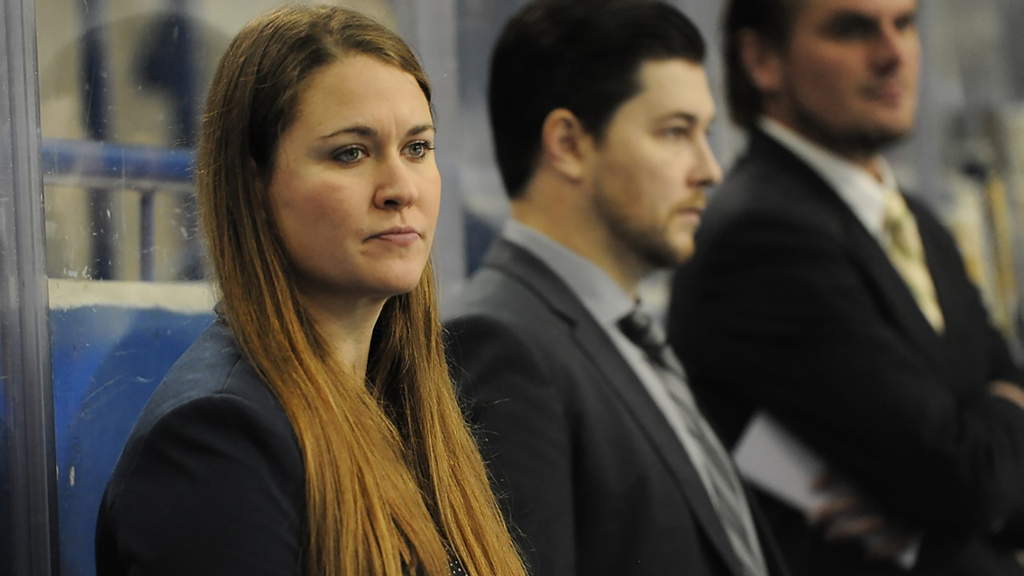 Despite whatever victories they may achieve in their respective professional leagues, all hockey coaches dream of being able to lead their own country to glory on the largest stages. In 2019, Cheverie was given this opportunity and capitalized, leading Team Canada's U18 women's team to the Gold Medal at the World Championship.
In 2022, Cheverie was set to serve as an Assistant Coach for the women's team at the Beijing Olympics, but ended up testing positive for COVID-19. Although unable to travel, Cheverie changed her sleep schedule to be able to watch all of the games and meet with players virtually to discuss systems and strategy. Her contributions helped Team Canada win the Gold Medal at the Olympic Games. Following the victory, Cheverie was named Assistant Coach of the U18 Canadian men's team. This marked the first time a woman ever served as a coach for a Men's Canadian National Team.
Kori Cheverie will become the first woman to serve as a coach for a Canadian men's national team when she steps behind the bench this spring for Canada's U-18 team.https://t.co/iPGnAh4oZ6

— The Hockey News (@TheHockeyNews) April 15, 2022
Clearly possessing the ability to break down barriers, Cheverie will soon make history if she continues on her upwards trajectory. The NHL has operated for over a century and has yet to see a female coach occupy a full-time role standing behind the bench. Cheverie would shine in that role having made the most of every opportunity that has come her way.
Let's not forget she already has her foot in the door with the Arizona Coyotes having completed their Coaching Internship program in the summer of 2022.
With her eyes set on the 2026 Olympics and eventually coaching at the highest level (men's or women's), Cheverie is just getting started and will continue to make her impact on the hockey world.
This June, Kori Cheverie will share her experience to the global coaching community at the TCS Live Coaching Conference in Ann Arbor, Michigan. Register today to learn from Cheverie and over 35 other presentations from the best and brightest minds in the game.