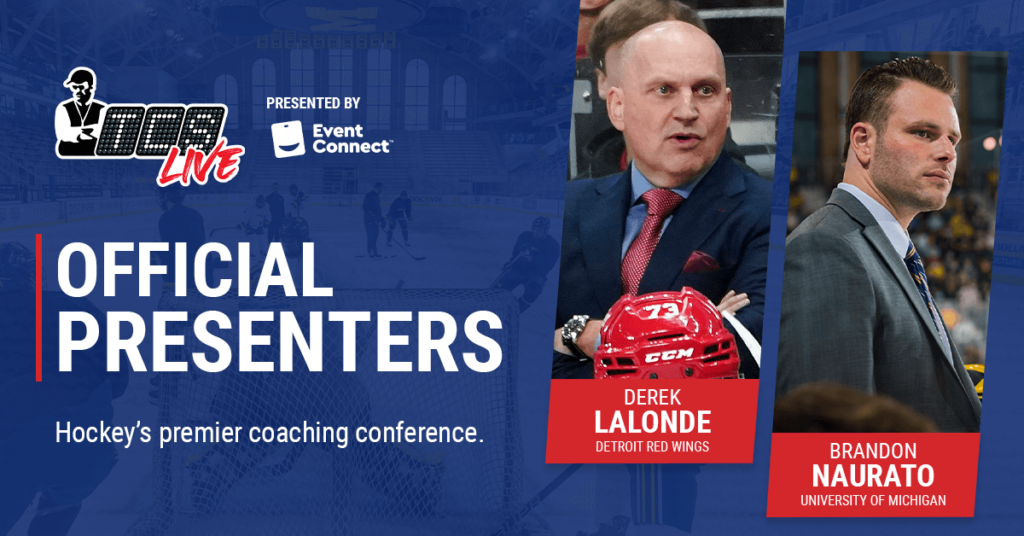 Representing two of the most storied organizations in the NHL and NCAA, the Detroit Red Wings and the University of Michigan are at the pinnacle of their respective levels, and proudly represent hockey in the state of Michigan.
Their combined 20 league championships have undoubtedly sparked generations of passionate hockey fans, along with over 37,000 players and 4,000 coaches across the state.
In June 2023, the leaders of both of these historic programs will headline the TCS Live coaching conference.
The event, taking place at the University of Michigan from June 22-24, will feature on and off-ice presentations from over 30 of hockey's top coaches and performance experts.
Among the first eight announced presenters are Derek Lalonde, Head Coach of the Detroit Red Wings, and Brandon Nauraro, Interim Head Coach of the University of Michigan.
Lalonde and Naurato are joined by an accomplished group of speakers, including world renowned player development coach Ted Suihkonen, Assistant Coach of the Canadian National Women's team, Kori Cheverie and 10-time World Champion figure skater, Victor Kraatz.
Click here to view the full list of presenters
Lalonde is in his first season as Coach of the Red Wings, after four seasons as an Assistant with the Tampa Bay Lightning. The two-time Stanley Cup Champion and New York product worked his way up the coaching ladder over the last 20 years with time spent in the CCHA, WCHA, USHL, ECHL and AHL, before joining the Lightning.
This will be Lalonde's first time presenting at TCS Live, although he's a longtime friend of The Coaches Site.
Check out his chalk talk on small area games, or his appearances on the Glass and Out podcast
Naurato, on the other hand, was part of TCS Live in 2022 and his presentation drew great reviews at the time, and since its release on The Coaches Site in early December.
Naurato is currently in his first season as Interim Head Coach of the University of Michigan men's hockey team. The Michigan product, who served a season as Assistant Coach before being promoted, previously spent three seasons with the Detroit Red Wings, serving as a Player Development Consultant. Naurato also runs Naurato Consulting and has worked with many NHL players, including Zach Werenski, Jeff Petry, Jack and Quinn Hughes, Dylan Larkin, Kyle Connor, Andrew Copp, and Josh Norris.
Watch a preview of Naurato's 2022 TCS Live presentation on Creating Offence Inside the Decision Zone:
ABOUT TCS LIVE
Hosted by The Coaches Site, TCS Live is an annual coaching conference which provides a stage for the game's top experts to share their knowledge with the global coaching community. Taking place from June 22-24, 2023 at the University of Michigan, TCS Live will bring together coaches from all levels of the game to learn the best practices of skill development, team tactics and program building.
Early bird tickets are on sale until January 11th. Click here to register today